Ricostruzione
Recircle Awards 2021: aperte le votazioni
E' stata annunciata la rosa dei nominati da votare per i Recircle Awards 2021, il premio per l'innovazione sostenibile promosso da Valebridge Media Services (VMS), l'agenzia con sedi in Regno Unito e Spagna. La giuria valuterà processi di produzione, gestione e servizi all'interno delle aziende della ricostruzione e del riciclaggio dei pneumatici.
La shortlist dei nominati, selezionata da un elenco preliminare di candidati votati dal pubblico, è stata scelta da un Comitato appositamente costituito, composto dai redattori delle riviste di settore Retreading Business e Tyre & Rubber Recycling più altri otto specialisti del settore, selezionati in base al loro status di indipendenza e alla loro riconosciuta esperienza nei rispettivi camp professionali.
La rosa dei candidati – tra cui anche aziende e professionisti italiani – per le 14 categorie di premi che sono aperte al voto del pubblico è la seguente:
Best Tread Rubber Supplier
• Goodway Integrated Industries Berhad (GIIB)
• Kraiburg Austria
• Marangoni
• Maxrubber Industries Sdn Bhd
• Vipal Rubber
Best Retreading Equipment & Accessory Supplier
• Central Marketing
• Tech Europe
• TRM
• Vipal Machinery
• VMI
Best Tyre Recycling Industry Supplier
• Eco Green Equipment
• E-Cova srl
• Eldan
• Molinari
• Salvadori
Best Casing & Tyre Disposal Services Provider
• Kargro Banden
• Kurz Karkassenhandel
• North West Casing Company
• Tire Core Intl Ltd
• Vellco Tyre Control
Best Tyre Derived Recycled Product
• Alprogetti: Climbing Gym
• CEVE-CINTEMAC: Roof Tiles
• COMSA SAU: Neoballast
• Shredded Tire: Echo Roof Blocks
• Tyromer – Upgraded TDP-B
Best Retreading Industry Innovation
• Insa Turbo / Grupo Soledad
• Kal Tire: Carbon Calculator/Maple Programme
• Neroforce: Densolit Carbide Tools
• Rigdon: Robotic Cell Black Constrictor Twin
• Vipal: Eye Control Technology
Best Tyre Recycling Innovation
• Eldan: Foreign Object Detection System
• ENEA: Silicon Carbide from ELT and Plasma Torch
• Pyrum: Pyrolysis Process
• Rubberjet Valley srl: Recycled Rubber for New OTR Tyre Production
• Hypertym: Mobile OTR Tyre Recycling System Retread Industry Fleet Award
• Berliner Stadtreinigung
• Girteka Logistics
• JHL Transportes
• Volanbusz
• Vy Bus
Best Publicity Campaign
• AIRP: Safety is in Your Hands
• Ecopneus: The Greatest Invention Since the Wheel
• Grupo Soledad: Corporate Video
• Kraiburg: Animal Tracks Campaign
• Signus Ecovalor: Social Media Campaign
Employee of the Year
• Ankita Saikia (Tyromer)
• Beatrice Stedile (Marangoni)
• Leo Linkesch (Marangoni)
• Mafi Palu (Tyrecycle)
• Saverio Musto (Corgom)
Business Innovation Award
• CERUB
• Klean Industries
• Grupo Soledad
• Kal Tire
• SEGINUS
Best Tyre Retreader
• Insa Turbo
• Kal Tire
• Marangoni SpA
• Michelin
• Vaculug
Best Tyre Recycler
• Liberty Tire Recycling
• Murfitts Industries
• Rubber Resources BV
• Tyrecycle
• XTyre Global
Best Company Director
• Dario Andreani (INSAMAR)
• Jorge Crespo (Vaculug)
• Pascal Klein (Pyrum Innovations)
• Dmitriy Psenichnikov (OOO Shina)
• Sudarsan Varadaraj (Elgi Rubber)
"Siamo orgogliosi di rivelare la nostra shortlist di candidati per i Recircle Awards", ha detto David Wilson, presidente del comitato per le nomine ed editore di Retreading Business e Tyre & Rubber Recycling. "Siamo lieti di sperimentare livelli eccezionali di impegno da parte dell'industria globale della ricostruzione e del riciclaggio dei pneumatici, che ci ha permesso di mettere insieme quella che riteniamo essere una Short List forte ed equilibrata con rappresentanze da tutto il mondo. Vorrei esprimere i miei ringraziamenti al Comitato per le Nomine per il loro impegno in questo progetto e per il loro prezioso giudizio nell'aiutare a selezionare una lista di candidati di così alta qualità".
Il processo di votazione per i Recircle Awards è quindi aperto. I membri del pubblico possono votare per i loro candidati preferiti esprimendo il loro voto nel sito web all'indirizzo www.recircleawards.com/voting/.
Il voto è limitato a un voto per persona, per categoria di premio. Il processo di votazione si chiuderà il 5 marzo 2021 e i vincitori saranno annunciati il ​​15 marzo 2021.
Ecco il sito per votare: www.recircleawards.com/voting/.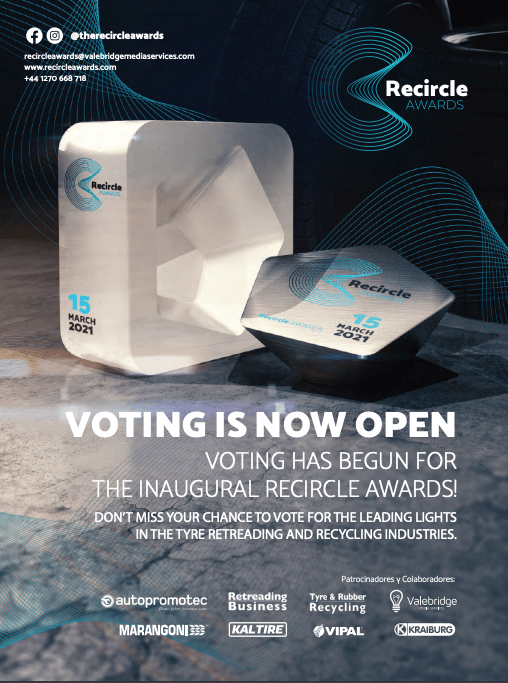 © riproduzione riservata pubblicato il 21 / 01 / 2021